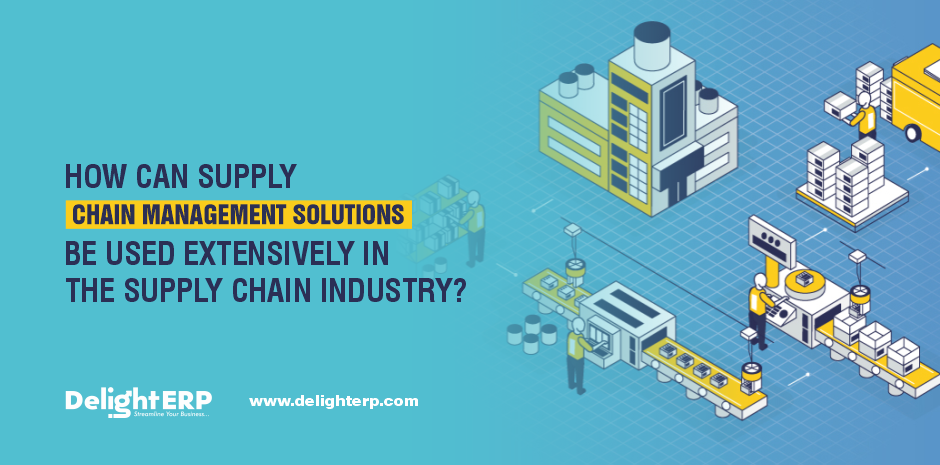 In every industry, supply chain management solutions are quite beneficial. With the usage of SCM, any supply chain industry may easily control its supply system.
The importance of timely delivery and ensuring product quality consistency cannot be overestimated. Organizations that use the software may easily control product quality and deliver supplies on schedule.
When organizations monitor the quality of their products and provide supplies on time, they may easily gain the trust of their customers. When an organization can gain the trust of its customers, it can establish a long-term relationship with them.
Relationships with customers are crucial. In today's competitive world, the software helps companies in maintaining relationships. Companies can keep their relationships with their customers even with the help of the supply chain system.
What are supply chain management solutions?
Raw materials are used in manufacturing industries to create finished products. Manufacturers utilize supply chain management solutions in the digital environment. Companies can use it to control their entire production process from start to finish.
You can simply manage orders, sales, production processes, raw materials, financials, and other items with the software. Companies have trouble managing the supply system if they don't use the software. However, by using the software, businesses may effortlessly manage their orders and customer relationships.
In the competitive world, using the software manufacturer may also track the order. Manufacturers can boost their sales by consolidating their companies into a single platform, compared to their competition.
As a result, in manufacturing businesses where all tasks are tough to handle, the software is used. The supply chain management system is also highly useful in the supply industry.
What is the Importance of the Supply Chain Industry?
The following are a few factors that describe the significance of supply chain management software in the supply chain sectors.
Customer satisfaction 
Customer satisfaction is very important for any manufacturing industry. And the phase of the industry's supply chain is willing to provide products on schedule. And, with the assistance of a supply chain management system, businesses can confidently manage product delivery.
When products are delivered on time, industries have more opportunities to boost their sales. Consumers are also satisfied when products are delivered on time.
Gaining the trust of customers in the commercial market is difficult. However, timely delivery helps the business in gaining the trust of the customers.
Higher productivity 
When consumers' faith in businesses grows, so does the number of orders. However, to maximize orders, companies must grow product manufacturing.
They will never be able to boost their productivity without the use of the software. However, Organizations can maximize production by adopting supply chain management software.
Once the business has increased employee productivity, it will be able to maximize production. Then they'll be able to finish the numerous orders. As a result, they will be able to develop their operations and boost revenue.
Cost-effective 
Manufacturers are avoiding using software that has been updated with new capabilities. They believe rumors that upgraded software is extremely costly. Organizations, on the other hand, use software that suits their needs when choosing the proper features. Additionally, selecting a specific feature reduces the software's cost.
A supply chain management system is cost-effective in the simple world. Which industries can expand their company and improve their sales? Organizations also save money on stationery because of the software's automatic features.
Furthermore, the cloud-based database allows team members to save time by storing data. Additionally, through the organization's workforce, cloud-based databases can provide immediate assistance to their customers.
Also Read: When Can Supplier Management Solutions Be Used In The Procurement System?
Supply chain management process
Now it's time to learn about the processes that supply chain management software streamlines.
1. Order Management 
Several industries are having trouble keeping up with the demand. As a result, the materials are not delivered on time. Delivery delays make a negative impact on customers' opinions.
As a result, managing the order and completing it on time is essential. Businesses utilize supply chain management software to manage orders in this situation. Businesses have a positive impression on customers by completing orders on time.
2. Supply management 
The primary function of the supply industry is to deliver commodities to their specific places on the schedule. Industries must complete the manufacturing process on schedule to achieve goals. They also meet deadlines by completing manufacturing on time and delivering products to customers ahead of schedule.
Organizations may track the delivery person even if they are using the software. These features assist the company in determining when the products arrive at their desired location.
As a result, products arrive at their destination ahead of schedule. In addition, the organization's relationship with its customers has improved significantly.
3. Sales management 
They can quickly store their data in the program's database by utilizing the company's software sales team. As a result, when the customer support team is ready to deliver a solution to the customers, they may easily obtain their information.
A successful marketing management system helps businesses in managing customer relationships. Additionally, the marketing team may readily examine sales reports utilizing the software. They can come up with unique strategies to improve sales in a competitive market by studying accurate sales records. They can also forecast future sales.
4. Production Management 
The volume of production is determined by the number of orders received. How many orders do they get and how many goods do they make? They must first identify the orders to provide it. Organizations can easily track orders with the software. As a result, they can produce products that can quickly fulfill demands.
Organizations can minimize overstocking by using supply chain management software to take limited orders that they can complete quickly.
Conclusion
Implementing supply chain management software in businesses helps administrators integrate whole enterprises into a single platform in today's digital world. As a result, companies can reduce their workload while increasing their sales ratio.
Contact Us and schedule a Free Demo with our ERP experts
RELATED ARTICLES