Cloud ERP Software
Extensive Cloud Based ERP system for Small & Medium Enterprises (SME)
Get Started
Get a Free Demo

Streamline Your Entire
Business
Make Your Business Entire Management Process Easy With Delight ERP Software
Get Started
Get a Free Quote
Delight ERP is one of the leading Custom ERP software development company in Rajkot, Gujarat (India). Delight ERP Software is a significant cloud-based solution. Here, ERP Software development is done for Small, Medium, and Large-sized enterprises with the latest technology. Our best ERP system is a cost-effective solution to help you to establish a fully integrated & smart business. Our highly advanced cloud ERP software contains various modules that focus on essential business areas. Such as project management, financial, manufacturing, accounting, sales & business management, dealer/vendor management, customer relationship management (CRM), and supply chain management.
Delight ERP makes real-time business data available throughout the organization. This feature enables businesses to adapt quickly and respond to changes, hence helping them make important decision-making within an enterprise. Cloud ERP Software also shares data with assigned third-party partners and vendors to improve the supply chain's efficiency. Our system helps you in several ways, including the system's amount of data, To make less-complex screens & dashboards. We provide cloud-based ERP software for the business industry.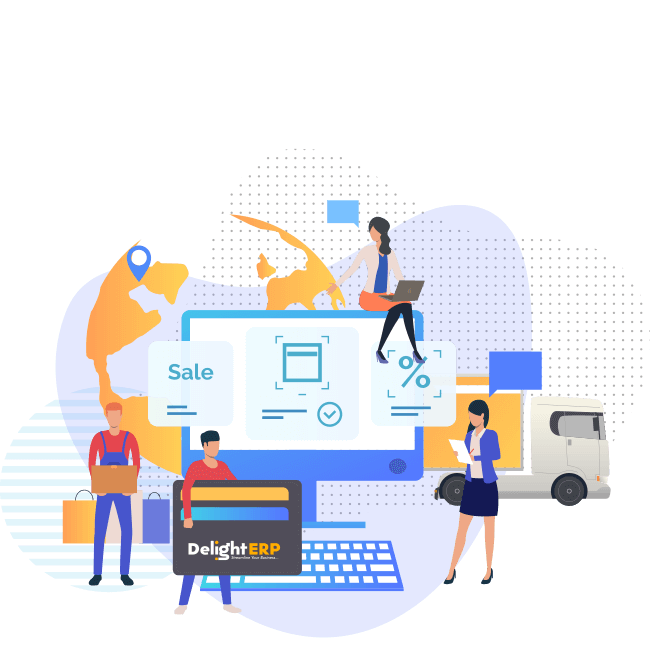 What Is Delight ERP System?
Delight ERP helps you to develop your business with an enterprise resource planning(ERP) system, Integrate all your data, use automation and smart technologies to break new ground.
Top Features of
Delight ERP Software
Our ERP software company helps you to manage all inventory things of your business very comfortably. You can manage your different products with different categories in our cloud ERP portal. It is very complicated to manage all the accounting details manually if you have large industries, but no need to worry! Our ERP accounting software makes your accounting life very easy. You can also add coupon codes, and any festival offers in your stock through our best ERP software.
We are one of the best ERP software provider company in Rajkot, Gujarat, that offer cloud-based ERP software development services for various business sectors. Our online ERP system works for any scale business. We are developing software for our clients based on GST billing, TAX, and many other factors. Our cloud ERP solutions can work remotely so the users can make their company/business management smooth and efficient. You can look at the quotations page to know the price range of our software. You can easily manage the whole or separate place located database straightforward and automated with our cloud ERP software.