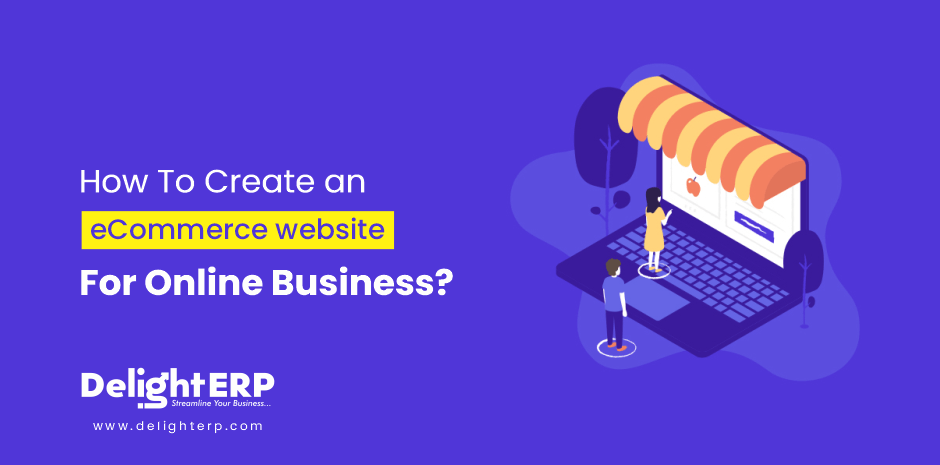 Suppose you have a business of a brick and Mortar Company, and you want to expand online, or you want to start it from the beginning. Then E-commerce will be the most profitable dashing. You need to create an eCommerce website for online business before you think about your business profit and selling products.
Developing or creating a website is a daunting task, but it is not that much difficult as we were thinking, using your experience level and knowledge of technical. Here I will describe how to create your eCommerce website and run into time.
Best Tools To Create eCommerce Website
First, you need to figure out what kind of platform you will use for your online business website. There are several options in the market today, but there are some tools that are best on this.  Shopify is one of the best options for your online business dream.
Benefits Of Shopify
Elegant themes are responsive: You are free to take control of the look and feel of your website design. With layout, content, and colors.
Low pricing: Either you can sell it online or out of the trunk. Its starting budget is just $29 per month.
Trustworthy: It is trusted worldwide by over 1,000,000 businesses. It is very secure at payment and shipping.
Also, WordPress is the best example of eCommerce website creation There are some benefits of WordPress for an online business that are given below.
Very easy to use: WordPress is very easy to use for creating a website. Add extra pages, color, blogs, images, etc. it responds very fast. Its formatting is very simple and transparent.
Responsive from any device: You can manage your website from any device or any tolls having an internet connection.
No, any editing or software required: WordPress is easy to create your section, blogs. You don't need to add any HTML tags. You can create your blog post; add image, format text, etc. without the need for any HTML tags.
WordPress site is efficient for search engines: The development code is very simple, clean, and easy for search engines to read the website's content.
Responsive design, customizable design: The look and feels of your website are customized. And you access your site from any device.
With plugins, extend the functionality: If you want to add the video gallery, Twitter feed, Facebook post box you can add this with plugins, which are free or at a reasonable price.
Also, check ERP And eCommerce Integration with Its Benefits
Create An eCommerce Website Step By Step Guide
1. Register and choose your plan
First of all, you need to create an account on software and register yourself. You just need to enter your email address and password for that. That is very simple and easy.
You can choose your plan by the base of your business requirement. If your business is small then choose the enterprise related plans and if you have a big company then choose the VIP plans. The entire e-commerce plan will be able to accept online payment.
2. Decide the way you want to create a website
Once you sign up, there will be two options that you can create your website with the editor or with ADI.
In the ADI option, you have to answer several questions regarding your business. And the design template will be created automatically by your answer with the use of artificial intelligence. If you want to change the design for later also you can edit the same. For beginners, ADI is the best option. It is faster and you do not create the design from the start.
Also, the editor option is easy. It just takes more time. If you have time and you want to create all the sections by your own term then the editor is the best option.
3. Choose your domain
Then you have to purchase your domain for your website. That will identify your brand. For the selling, you need your identity's name to represent. So, choose your plan according to your business.
You can connect a domain that makes your website live on the digital market.
4. Set up your online business eCommerce website
If you have a product selling site then you need to set some functionality for your website. These components will help you to sell your products online.
Add products – you can add your existing product as well as new arrival products too.
Shipping – It's determined the region of delivery of the product and calculates the shipping tax on that.
Payment method – after that you need to add your accepted payment method. Like a credit card, net banking, etc.
5. Make your website live.
After choosing the domain and all, make your online business eCommerce website live. You will get a URL that will list your website name and domain that you had purchased.
6. Search engine optimization
Once you create your online business eCommerce website after that you need some SEO to make your website visible at Google traffic.
That is also an important part that your website needs your website to optimize at the higher number at the search engine.
7. Personalized outing relation
Personalized relation is very important if you have successfully understood the strategy of search engine optimization.
8. Facebook + Google shopping catalog
As mentioned earlier, SEO is the best part of any website process, so that consumers can develop their website to be completed or starting from the beginning.
There is something without which you cannot say your site is completed. When you are at the final stage of your website creations make sure about the Google shopping campaign setup.
And make sure products are available when customers find the specific product by writing the specific keywords. If you are unfamiliar with the goggle shipping system you can search it on Google for better reach.
9. Packing orders and shipping/storage system
You need to make sure about how to store and ship your product before launching the online business website. You will have to set an arrangement with your vendors too.
Also, see What Is ERP Implementation Life Cycle Process And Strategies
Conclusion
So, this is how you can create and start your own eCommerce website for online business by involvement and detailed process. The above steps will ensure you and guide you for the proper steps to launch your website with your SEO and marketing. Let's create your E-commerce website online with the best tools for your business planning.
RELATED ARTICLES