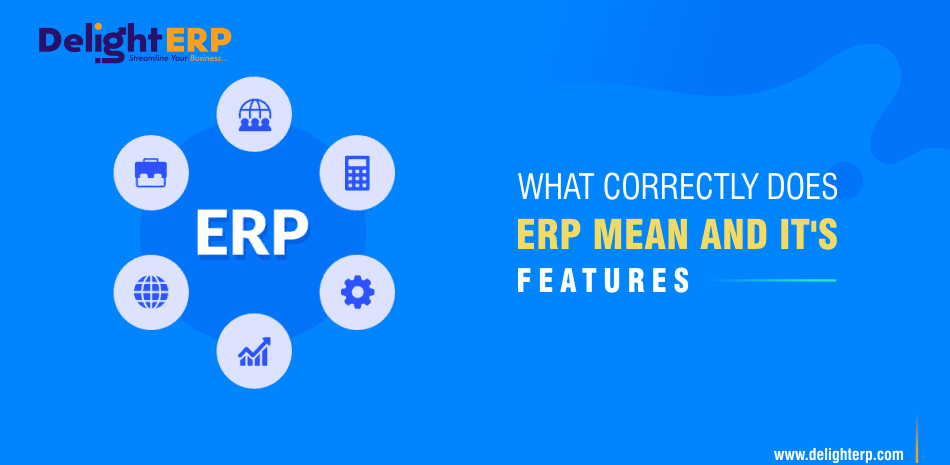 What is an ERP system?
ERP stand for Enterprise Resource Planning is to structurally plan your business and do most of your company work through ERP.
It is a combination of multiple databases into one to manage and access various resource from a single location within organizations.
ERP system is Enterprise Resource Planning that consists of multiple different modules that can be purchased differently according to the specific needs and technical capabilities of the organization.
The various ERP modules include sales, finance, payroll, HRD, NPD, Stores, Quality Assurance, PLM, Dashboard, Manufacturing etc. A business typically uses a combination of different modules to manage back-office activities and tasks.
Get a free Demo of ERP Software
Effectiveness of ERP is also can be there due to the following reasons…
Top ERP Features to Look For
Although some of these ERP features will be integrated into the same modules, your system should be able to support the following methods:
Logistics including shipping and tracking the information
Supply chain management and database management
Manufacturing management including all aspects about buying and receiving the various parts and products
Warehouse management, including inventory check and processed goods.
Finances and accounting including accounts receivable, accounts payable, cash flow analysis and billing
Human resource management such as training and hiring, payroll, vacation checker and rosters
Procurement management
Project and service management
Business intelligence
Customer contact and relationship management such as customer contact information, previous ordering and preferences
Sales force management
E-commerce including online updates and additional e-commerce features
Read about ERP Software
Additional ERP Features to Consider
Ease of use
Framework consistently should be simple and easy to use; when utilizing ERP, your undertaking will be compacted to a single dashboard and the board.
Real Also: Why Cloud ERP Software Is Required For Business Management
Client assistance
Did you buy your ERP programming from a merchant and assuming this is the case, what sort of help would they say they are advertising? Most ERP merchants will alter, introduce and train your workers on the framework. So client underpins is consistently be there from our side.
Updates
The business and money related world will undoubtedly change, and it's keen to investigate the programmed refreshes that are offered with your ERP framework. On the off chance that there are changes to the tax collection rules or something else, will your framework naturally update to comply with these changes? That is the fundamental inquiries for all and we will.
You may Also Like: How Cloud ERP Software Is Useful In Business Financial Tracking
Safety and security featured
At long last, another ERP includes that you ought to be keeping watch for is the security features. Can you alter the settings to permit certain individuals to access to specific regions? You don't need your private data getting into an inappropriate arrangement of hands, and we generally take care of that.
Modules Of ERP
Human Resource Management Module
Each organization has necessities of HR the board and everybody appearing to be identical to oversee worker subtleties withing single tick, So Human Resource Module contains the employment details of the company like attendance and performance tracking, Salary Management, job designations and allowances details.
Stock Module
Stock Module can be utilized in the huge association who are keeping stocks and products inside associations, and It helps them to follow the current stock and things just as continue following of areas and revealing of the merchandise.
Sales Module
Every organization are managing different types of sales and services related task, so for that sales module observe and storing details of various sales and processing inquiry, query and quotations related information.
Purchase Module
Purchase module contains the request explanation and delivery related data like who is a purchaser and what number of a specific stock, just as the date and time information with seller subtleties, quotations, refreshing stock and so on.
Finance and accounting module
Finance module contains all transactions information which is associated with the bank. However, it deals with the asset report, record subtleties, instalment explanation, charge the board, cheque subtleties, and planning.
Each money related information of your associations you can access inside single tick right now.
Production module
This module mainly utilized by the manufacturing unit, which are manufacture different items, the module is used to store planing and creation related information with crude material and following everyday creations of the unit.
CRM (Customer Relationship Management)
As the name expressed that this module contains various informations of client like deals and leads information, promoting information and different client related request.
Stores Module
Stores module used to following, keeping and procedure the relevant information and expel unrelevant details from the database which is not used for the future endeavour.
Check it out: What is ERP Roleplay In Supply Chain Management?
Pros to Use ERP in small business
Permeability of business
You will get all out perceivability of your business about your little and enormous stocks, information, products and enterprises which you are offered to the clients.
Improved Small Planning and Budgeting
As though we are having independent company arranging and planning occurs at each second, so you can without much of a stretch deal with your plan of the private company just as arranging with an explicit module of ERP.
Customization and Productivity
Because of different modules, you can pick a specific module for your business to chip away at the explicit prerequisite of your independent company.
Standardized your business procedure
As we have discussed that ERP spare your time and it is an exact framework to oversee and store different information of your business.
Standardization is automatically taken place if you are using the ERP because as your time is saved from different entry and various data management, you can focus on another particular thing which will help you to grow your business.
Summary…
There are certain types of big and small company still managing the data and various record with the classical scheme. Finally, they all are getting stuck in this competitive business.
It is alright on the off chance that you have a private venture. You are utilizing the old style method to deal with your information and assets. Yet, these days for the big organizations it is compulsory to oversee different information with a separate module of ERP framework, because the s consistently speed up dealing with the knowledge and you need to place the information in it, rest system will deal with everything.
RELATED ARTICLES