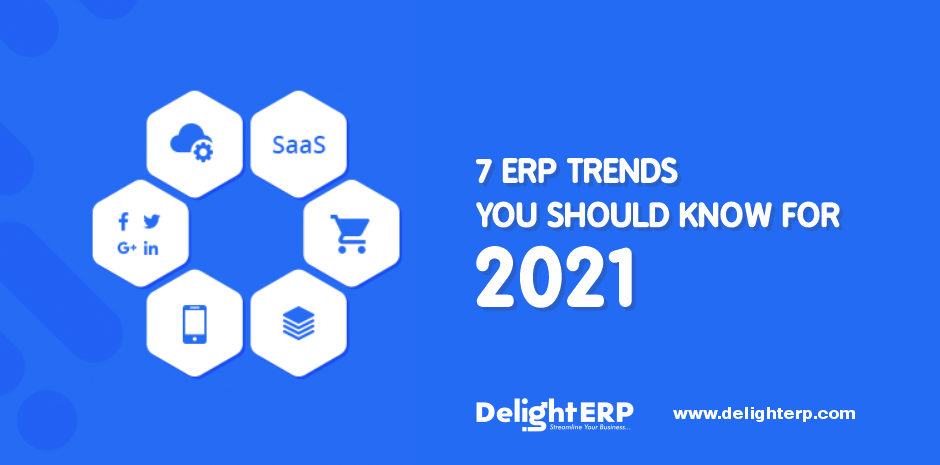 Introduction
There are three ERP trends you should know for 2021. ERP (Enterprise Resource Planning) is an IT management software solution that helps organizations manage multiple IT assets in a more efficient way. There's good news and bad news for ERP users. The good news is that you'll be able to access more information and do more things with less confusion. You'll also be able to work with more professionals from other companies while saving time and money by using ERP solutions from your favorite providers.
The bad news is that ERP is still evolving, so the technology it powers may not be fully functional for some industries 3 years from now. When it comes to managing your information, there is no shortage of advice. Forget about it. When it comes to information technology, there is no shortage of trends either. But managing them all can be tricky, requiring an array of skills and knowledge. This is why we have put together a list of ERP facts you should know for 2021. These will help you both prevent and manage data leakage in your organization as well as make it easier for you to access needed information when needed.
7 ERP Trends for 2021
More Users are Moving to the Cloud
ERP is important for a number of reasons; it ensures that when you buy something from the cloud, your data and files are kept safe and protected. This means less time paying out cash to creditors and more time earning free money from your projects.
As ERP solutions become more mainstream, buyers are moving to the cloud in search of simplicity and unparalleled control over inventory and finances. ERP gives buyers of all sizes a single dashboard to manage their entire supply chain and inventory optimization processes. With cloud ERP solutions, buyers can access their data from anywhere in the world in real-time and update their information without leaving their desks. This improves communication between departments and eliminates manual processes that can slow down business operations.
Internet Of Things
Internet of Things is a growing part of the ERP sector. Various hardware, software, and services are interconnected in a network to provide automation or capability for performing common processes using physical resources (e.g., energy, water, transportation, warehouse occupancy, inventory, customer order management, warehouse storage). The interconnectedness of systems allows these systems to work more efficiently and effectively with each other than they would on their own.
We, human error, a combination of human and technical error is the root cause of most computer problems today. This internet of things (IoT) ERP system, is the solution to increasing the reliability and security of digital systems. ERP allows any organization or individual with access to a computer or smartphone to simulate or take control of thousands of virtual machines or physical devices. All you need are just a few gadgets and a few minutes to set up your virtual office or factory.
Role of Direct Machine Integration
The direct machine integration within ERP systems is the system that provides end-to-end access for data from a variety of sources, either internally gathered or obtained from external sources. The end result is an efficient, streamlined data transfer that provides users with a seamless experience when changing providers or adding new data sources.
Aside from being an integral component within ERP systems, direct machine integration also plays a vital role in EHR implementation as it enables automatic data validation when creating or editing records in different applications. Single point of failure for all components is one of the main reasons direct machine integration of ERP systems is becoming more popular. It saves both time and money for replacing or adding components, reduced maintenance and testing, and increases the accuracy and security of system operations with less downtime for the users.
Vendors Offer More Personalized Solutions
Vendors Give and Take has been a trusted resource for the future of ERP system development. Our expertise has brought the best and brightest minds to the table, helping thousands of businesses to transform their tech into value. Through our marketplace and partner programs, Vendor Offer More Personalized Solutions in ERP System will continue to drive its core mission – empowering end-to-end ERP system development for small businesses – with a focus on lowering costs, increasing productivity, and enhancing overall customer experiences.
Business intelligence software offers hundreds of features that can help boost efficiency and help you reach potential customers more effectively. In every modern business, there are tens to hundreds of operational functions. Many of these tasks are time-consuming, error-prone, or expensive to correct. Managers and human resources staff would much rather spend their time on core business functions that deliver positive ROI then spend time performing basic functions that are easy to outsource. But it's not just about saving time. Business intelligence software also gives managers more powerful tools to make decisions and control the processes in their organization.
Heightened Need for Advanced Technologies
The increased need for advanced technology in the ERP system is a direct result of the increased complexities and interactions among actors in an enterprise. Managing information in an enterprise has evolved into an iterative process as new technology is introduced and existing solutions are updated or redesigned for new scenarios.
As a result, business leaders must constantly evaluate their existing ERP systems and ensure that they are maximizing available capacity and maximizing scalability to meet growing organization-wide needs and evolving customer requirements. Within the scope of health IT, there is a need for more specialized knowledge in order to enable health care providers and other users to utilize the best available solutions. Increasing medical costs have spurred the development of increasing demand for advanced technologies within ERP systems.
Digital Transformation and E-Commerce
Digital transformation and e-commerce have affected the ERP industry in a positive way. With more users and more activity, the demands on ERP systems have increased tremendously. And this has resulted in factoring more and more data into the design of systems. It takes an understanding of data to be able to customize a system effectively to meet the specific needs of your organization. ERP can alleviate a lot of stress from your IT department. By automating processes and reducing human error you can keep systems responsive and operating at optimum efficiency.
The digital transformation has resulted in smaller companies being able to compete with larger ones that were previously dominant due to economies of scale. Hence, there are multiple reasons to consider outsourcing your ERP implementation. However, before you start thinking about outsourcing, it is important to understand what benefits you will achieve by doing so. To start off, it is important to understand the difference between traditional and cloud ERP systems. The main difference between the two is the way data is processed and presented to end-users.
Two-Tier ERP
A two-tier electronic retention system is a software-based enterprise resource planning (ERP) system provider that uses an innovative two-tier architecture to manage information and resources while seamlessly integrating third-party software applications. Two-tier ERP offers end-to-end security and managed application services featuring enterprise-grade data protection, application-layer Integration with third-party application services, as well as enterprise-grade connectivity, personalization, and user-interface features.
Two-tier application and implementation of information technology (IT) reduces cost and improves service delivery by enabling the purchasing of goods and services through an entirely electronic system, eliminating single points of entry for contracts and invoices, transferring data from one location to another as needed, and automating billing. Two-tier ERP is a modern, scalable, and secure way of basic IT operations. ERP is also known as a systems integration platform.
What's next? The Future of ERP
The future of ERP (also known as Future of Customer Relationship, or customer relationship management) is the process of managing your relationship with your customers. The future of ERP is a subset of the broader field of marketing. Many IT services have become specialized, and companies have begun focusing on specific vertical markets or user groups.
As a result, the term "ERP" has come to be used to describe a wide variety of technologies used to support various aspects of these businesses. The future looks bright, and it's looking a lot like ERP. Nearly every industry is moving toward using ERP networks, and many startups are establishing themselves as leaders in certain geographies while spreading to others throughout the world. But ERP can be scary to those who are new to it, and there are plenty of myths around it as well.
Also Read: Reasons Why Cloud ERP Is Ideal For Growing Businesses
Conclusion
These are just a few of the most exciting ERP trends that are happening for 2021. ERP (Enterprise Resource Planning) is an approach to building and managing information infrastructure for organizations. As big data, cloud computing, and digital transformation continue to advance, ERP has become more essential than ever for organizations to stay competitive in the marketplace and deliver new levels of efficiency and value to their customers.
In the business world, ERP has become one of the most crucial aspects for successfully running a business or firm. With ERP, information is shared among various departments and offices, allowing them to work together more effectively. This decreases time spent coordinating and managing tasks while resulting in increased productivity.
RELATED ARTICLES