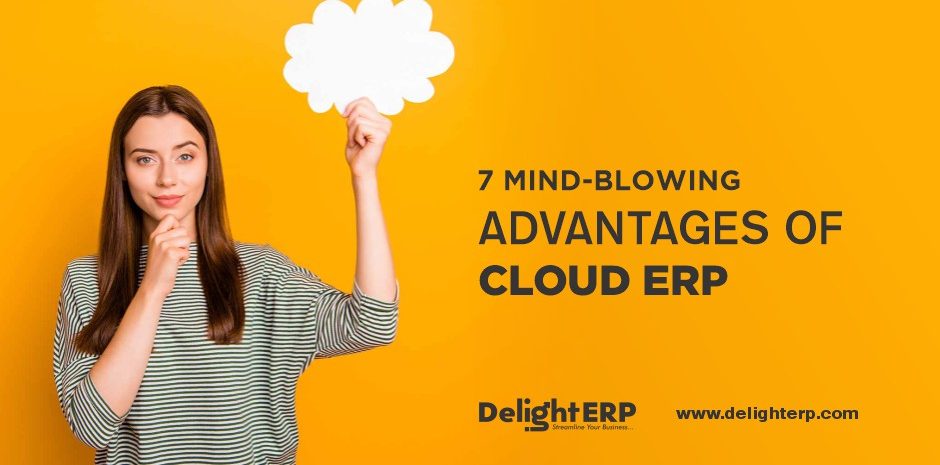 Introduction
Managing a business is a challenging endeavor. It takes a lot of work. To accelerate the process and achieve competitive advantages and higher-end goals, you must arm yourself with efficient technology and available resources. ERP, or Enterprise Resource Planning, is a critical technology in the successful administration of your corporate operations. We ensure that all apps to automate your business administration are under one roof.
Traditional on-premise enterprise resource planning (ERP) software systems, on the other hand, are too rigid to keep up with changing technology and business practices. As a result, the cloud has become the most popular SaaS ERP deployment choice for businesses of all kinds.
What is Cloud ERP?
ERP is an abbreviation for enterprise resource planning, and software businesses use to manage information throughout the firm. Cloud ERP refers to ERP software and solutions supplied and collected via the cloud rather than on-premises. While each company is unique, they all confront the same challenge: to compete effectively in today's business climate, and they must have access to technology that allows them to innovate, expand, and develop rapidly.
They want modern, globally linked, and constantly updated software tools and systems that enable them to devote more time and energy to executing growth projects and less to day-to-day IT management. This is where cloud ERP comes in.
More organizations of all sizes are exploring cloud ERP than ever before as technology advances and evolves. This popularity is primarily due to reasons such as affordability, dependability, speed, and accessibility.
Why Cloud ERP?
So, let's have a look at why businesses prefer cloud ERP over other ERP options.
●
Faster and Effortless Implementation
Cloud ERP is well-known for its quick and straightforward deployment. The system may be implemented quickly by businesses.
●
Cost Savings
Cloud ERP is a long-term investment that may be considered an intangible asset for the business. Businesses can make changes to it as they see fit. This solution is more capable due to its rich integrations and customization possibilities. Automation of different procedures improves corporate productivity while reducing inconsistencies and redundancies—Cloud ERP aids in the reduction of expenses connected with IT and other new technologies. Manual processes can be minimized, and resources can be saved.
●
Universal Accessibility
The main benefit of cloud systems is their worldwide accessibility. It enables data access from anywhere in the world at any time over the internet. Universal accessibility ensures efficient cooperation and distant working benefits.
●
Strong Data Security
The cloud ERP provides enhanced data security since data is stored on the cloud, eliminating the risk of data loss due to internal or external accidents. It also eliminates data duplication and redundancy.
●
Real-Time Data Visibility
Businesses may get increased data visibility and real-time visibility throughout the enterprise using Cloud ERP. It includes practical built-in tools and strategies for dealing with problems and correcting errors even before they occur.
●
Business Unification
Cloud ERP solutions enable business improvement and unification. Company unification is quite effective in terms of improving performance and increasing business efficiency.
Recommended For You: How ERP Software Is Important For Sales Management
7 Advantages of Cloud ERP
Every firm has its own set of business procedures and activities. To capitalize on the potential for development, they require a robust cloud ERP system. We are the world's most excellent cloud ERP solution, with extensive features.
1. Better Business Intelligence
Intelligent decisions drive success, and cloud ERP systems provide powerful analytics tools to help you make better business decisions. It enables forecasting and ushers in a new age of possibilities for making informed decisions through data collecting, analytics, and reporting approaches.
One of the most significant advantages of cloud ERP software is access to real-time analytics. This allows businesses to view crucial information as it becomes available, so you can be confident that the information you're looking at is always relevant and updated. Real-time analytics can assist you in making crucial business choices while also ensuring process optimization.
2. Helps streamline processes
Businesses must streamline operations to enhance production and efficiency by minimizing repetitive tasks. Modern Cloud ERP systems can simplify and streamline operational processes, making them more effective and lucrative.
According to TEC, 95% of firms enhance some or all of their procedures after using ERP. Cloud ERP enables businesses to simplify operations to remain competitive and satisfy the high expectations of consumers and workers by:
● Increasing departmental collaboration
● Increase data visibility by automating data entry.
● Reporting that is adaptable
● Integrating functionality as closely as possible
Of course, not every Cloud ERP system is capable of doing so. As a result, it is critical to examine and evaluate the cloud ERP system that will match your needs and assist you in developing your organization. When compared to an on-premise ERP system, subscribing to Cloud ERP software provides cheaper upfront expenses.
3. Cloud ERP saves you time, money, and effort.
Cloud ERP offers numerous advantages: it may save your company time, money, and effort, allowing you to focus more on operating the business. Cloud computing enables you to safely and quickly access your ERP software over the internet to get corporate data.
Furthermore, Cloud ERP software is not housed on your premises, and it reduces your upfront expenses by eliminating the need to purchase servers. According to financesonline.com, SMB owners prefer utilizing ERP systems over standalone solutions since it may cut operation expenses by 11%, simplify back-office operations by 77%, and provide them with real-time insight into company data by 48%.
Furthermore, cloud-hosted ERP is 30 percent less expensive than on-premise solutions on average. Moreover, Cloud ERP often includes an automated backup of your data, program upgrades, improved data security, and no server maintenance from you as a user.
As a result, you do not need to manage your servers or engage additional IT staff. Many companies save time as a result of Cloud ERP.
● Manual updates and extended downtimes
● Server maintenance is performed regularly.
● Defending against security breaches
4. Without a hitch, connect resources and departments
Managing a firm with fragmented systems makes data sharing and collaboration between divisions challenging. As a result, one of the top goals for organizations is to consolidate organizational data and improve communication. That is precisely why organizations use an ERP system.
The following are the top three advantages:
● Increased Collaboration
● Reduced process time
● Centralized enterprise data
This enables firms to remain competitive and increase production, resulting in a more significant profit and an 11% reduction in costs. When departments are linked, employees are more successful and productive since they may accomplish work quickly and move on to the next one.
According to the most recent study, ERP systems increase departmental communications, minimizing misunderstanding and human mistakes. As a result, improved teamwork can boost production by 20-30%.
Aside from that, about 95% of firms reported substantial improvements in their workflows after using ERP software.
5. Easy scalability, and there is plenty of room for expansion.
When we talk about scalability, one of the essential aspects is the capacity to respond rapidly to changing business conditions and growth. As a result of its scalability, cloud ERP solutions are becoming a popular choice for medium-sized enterprises. ERP Cloud solutions enable organizations to respond swiftly to changing business conditions by rapidly expanding their operations and systems to accommodate new users, add-ons, and features.
As we can see from the graph, businesses installed ERP systems because they saw the ERP system as one of the essential components of expanding.
As a result, the old bespoke software is no longer suited for business expansion. Today's ERP software is designed to meet the specific demands of each organization, with lots of flexibility for customization. As a result, you can update and add on as needed rather than build a system as your company expands.
6. Cloud ERP boosts your company's productivity and efficiency.
Cloud ERP has numerous advantages for organizations, one of which is greater productivity and efficiency for your company and its staff. The availability of effective remote operations, which provides significant flexibility to your organization, is a vital aspect of running a contemporary business.
The ability to work from anywhere globally at any time provides employees with tremendous flexibility, whether they are on a business vacation or working from home. Furthermore, Cloud ERP enhances cooperation among colleagues at work, on a business vacation, or at home. As a result, the ability to work from anywhere is critical.
According to the Forbes study, 64% of respondents believe that cloud-based collaboration solutions help organizations complete work quickly. Senior management and c-levels perceive Cloud ERP solutions as a fantastic tool for cooperation, with the proportion rising to 82 percent among leaders.
Aside from cooperation and flexibility, Cloud ERP provides small and medium-sized businesses access to cutting-edge technology previously only available to huge organizations. With timely and frequent upgrades to the Cloud ERP application, the IT staff spends less time on these things and more time on vital business activities. According to the Forbes study, 64% of respondents believe that cloud-based collaboration solutions help organizations complete work quickly. Senior management and c-levels perceive Cloud ERP solutions as a fantastic tool for cooperation, with the proportion rising to 82 percent among leaders.
Aside from cooperation and flexibility, Cloud ERP provides small and medium-sized businesses access to cutting-edge technology previously only available to huge organizations. With timely and frequent upgrades to the Cloud ERP application, the IT staff spends less time on these things and more time on vital business activities.
Other departments benefit from the newest tools, allowing them to operate more efficiently and quickly and continue developing.
7. Quickly get folks on board.
Bringing on new employees entails a learning curve as they adjust to a new working environment, people, space, and even the technology they must utilize for their jobs. Many workers have already employed tools for business activities, but because there are so many various types of software, they may need to learn how to operate with new software used by your firm.
As a result, knowing how to utilize your company's software effectively to produce things appropriately, efficiently, and accurately is an essential aspect of onboarding. It might take months for new staff to understand how to use them completely. And if you use more than one piece of software, the flexibility of new technologies might be much more significant.
That is why standardized ERP software aids incorporate growth by bringing all business management tools together in one location. Modern ERP software is designed with the user in mind to avoid becoming confusing and challenging to use and instead to provide a simple to learn and use interface. This is an essential component of what businesses expect from ERP systems.
As a result, modern ERP systems include features such as:
● Friendly User Interface
● Responsiveness
● Across departments and functionalities, the interface has been standardized.
● Extensive resource database (Microsoft provides the most resources for its products. Greater than the combined size of Amazon and Salesforce.)
The criteria listed above assist organizations in onboarding new employees in adopting new technology more quickly. As a result, you may devote more time to expanding the firm rather than training new employees.
Also Read: Reasons Why Cloud ERP Is Ideal For Growing Businesses
Conclusion
Modern Cloud ERP systems are not as cumbersome as they once were, and they allow for extensive customization to meet the demands of any organization. To get the most out of Cloud ERP systems, you need to select the appropriate application, and many suppliers offer free assistance in locating the ideal option. (Let us guide you in finding the best Cloud ERP for your company.)
As a result, ERP systems have become critical for small businesses to develop their businesses more efficiently and rapidly and swiftly respond to trends and risks.
Cloud ERP systems are becoming cheaper than ever for nearly any organization, whether a small-medium-sized firm or a multinational corporation. Cloud ERP software can enable you to grow your business quickly to maximize the value of your shareholders.
RELATED ARTICLES