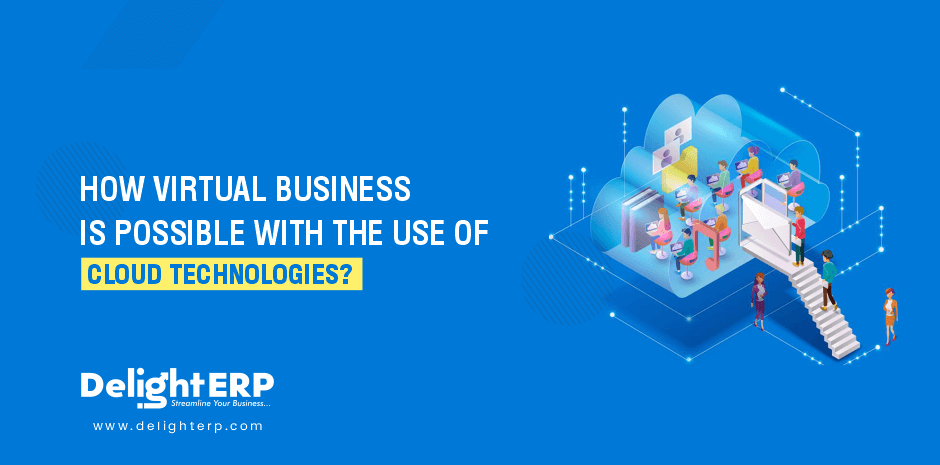 What Is Cloud Technology & Virtual Business?
Before diving deep into the advantages of utilizing cloud technologies in your Virtual Business, let us have a brief introduction about what cloud is and how does it work.
In recent trends, the cloud has become a perfect synonym for the Internet. This term is not new when there are discussions related to technology, data storage, data security, etc. So basically a cloud can be defined as a resource for data sharing and communication by the means of the internet.
The data are stored in virtual or physical servers, which are managed by the cloud services provider like Amazon, through their product called Amazon Web Services (AWS). All you need is to have access to some storage space in these clouds and you are ready to store, modify, retrieve, or delete the data anywhere and anytime with an active Internet connection.
Mainly there are three types of cloud computing services, namely Software as a Service (SaaS- example Office 365), Platform as a Service (PaaS- example SalesForce), and Infrastructure as a Service (IaaS- example RackSpace).
There are a number of service providers available to store your data on the cloud, some of them even offering free storage up to a certain extent. Some of these are DropBox, Backblaze, box.com, etc.
Getting a clear picture of the cloud and its services, below let us discuss how cloud services can be useful for your virtual business or online businesses.
Apart from large companies, cloud technologies can prove advantageous to small-sized businesses as well. The core advantages of using cloud services include a decrease in maintenance cost, enhancing the productivity of the business, and introducing innovative ideas for the business process.
Also, read How To Create An eCommerce Website For Online Business?
Pros Of Using Cloud Technologies and Storage For Virtual Business
So let us list down a few advantages of using cloud storage and technologies for your virtual businesses.
1. Easy set up at the initial phase
If you are an entrepreneur and you are about to start a virtual business, or you want to take your existing business online, it is obvious that you would go for the minimal cost options for hosting your website, data storage, etc.
So, with the use of cloud technologies, you can test your website and store some of your data to see how it would work, on the readily available frameworks on the cloud, and when you get an assurance of the effective working of your websites and access to the data, you can go live and upload all your data on the cloud and give a kick start to your virtual business.
2. Reduced Cost by Virtual Business
No matter what size of your company is, the budget is an important factor to be considered while deploying any new technology in your company.
Cloud services, of course, they provide free data storage and other services up to an extent but then become payable if you want to have more access to the same. But the advantage is that these are the nominal charges and the business owner need not worry about the over exceeding budget.
3. Data security
With your data stored in the cloud, you can rest assured regarding the security of data as cloud services provide strong security to the data and prevent the redundant, duplicate, and ambiguous data from affecting the original data, in addition to the prevention in data loss.
4. Scalability of Virtual Business
For start-ups, it might not be feasible to opt for the enterprise resources and so they would stick with the basic features of the cloud.
However, whenever there is a requirement, the businesses can easily expand their scope using the cloud technologies, by switching from the basic version to the enterprise version.
5. Support in case of any issues
Once deployed, the IT support team of the cloud service provider will constantly be in contact with you. In case you get stuck up, you don't need to worry about the solution as you can contact the support team anytime and you will get the relevant solution.
6. You can have your work done remotely
Getting to access data anywhere and anytime, you don't need to sit amidst the four walls and continuously monitor your fellow members when you can carry out all your stuff remotely sitting at any corners of the world.
7. Survival in the competitive environment
As most of your data and business processes can be handled online, you would get more time to think about how effectively you can generate more leads per day and how can you increase the lead conversion ratio to potential clients.
8. Higher availability of Virtual Business
As discussed on the sixth point, you can access your data whenever you want and from wherever you can.
9. Faster performance
With high-speed internet, tasks like data retrieval, upload to the cloud, etc. can be done at a lightning-fast speed.
10. Get a platform to run your applications online
Software as a Service type of a cloud provides the platform to run your web or mobile applications, in addition to implementing various company software online, and thus enabling you to run your applications faster, as these platforms do not depend on the architecture of any system.
11. Less installation of hardware
You don't need to build data centers once your data is being stored on the cloud. Talking about the small scale industries, you don't need external hard drives to store your company backup. Everything will be managed by cloud storage.
12. There is no scope of being outdated
Cloud technology is the one that has been facing evolutions every single day. Unlike floppy disks, CDs, etc., there are no chances of cloud technology becoming outdated.
13. Easy for collaborating data
If your company has a deal with other companies and to carry out the project, you need some data to be shared, then there is no need to worry as cloud services provide the facility of data collaboration between two user accounts.
14. No worries about updating software
SaaS provides the facility of auto-updating of the software interface it provides to the users. Hence the users need not worry about regularly updating the software.
Also, see What Is ERP Implementation Life Cycle Process And Strategies
Conclusion of Virtual Business
Concluding our discussion here, there are a number of cloud services available for data storage like Dropbox, google drive, sandbox, Amazon Web Services provided by Amazon, etc. And we can use these cloud technologies for virtual business facilities. Thus by use of this facility, we can run any genre virtual business from any random place.
RELATED ARTICLES