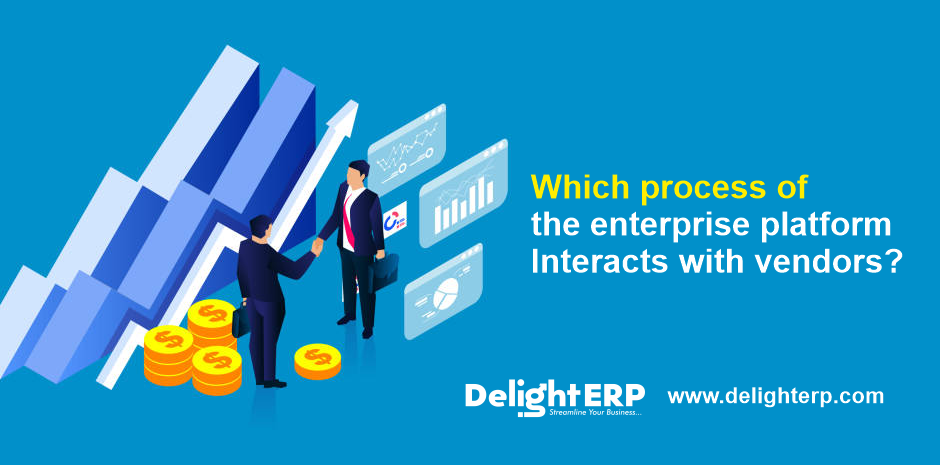 The enterprise platform's supply chain system communicates with vendors and helps businesses with vendor management.
In today's competitive market, manufacturers make a product and sell them to vendors or suppliers. They are the kind of customers who buy huge quantities of products from the manufacturer and deliver them to users.
If vendors boost their sales, the manufacturing industries will also increase their sales. But that's why they have to keep track of so many different procedures. As a result, organizations want software that allows them to effortlessly manage all of their processes and integrate their operations into a single platform.
Even in today's environment, several manufacturing industries use ERP software to run their business. They would be able to simply control the supply chain system as well as their vendors after deploying the software.
Which process of the enterprise platform interact with vendors
The ERP software's supply chain system communicates with vendors. Companies meet vendors or suppliers throughout the supply chain phase. And companies that provide supply management give materials in the time.
Vendors are providers or sellers who buy things from businesses and deliver them to consumers. That is why vendors require timely delivery of materials. When companies are delayed in delivering materials, it makes a negative impact on the vendors.
Vendors are the consumers of companies who buy huge amounts of materials. As a result, they must deliver the materials within the specified time. They do this by implementing a supply chain that allows them to deliver materials on time and maintain relationships with vendors.
In addition, with the help of ERP (Enterprise Resource Planning) software, managing supply chain systems has become simple in today's environment. As a result, we may say that the enterprise platform's supply chain process interacts with vendors.
Vendors management processes
Here are some vendor management processes that the manufacturer might use to keep track of their suppliers. In addition, customer satisfaction with the product's quality and timely delivery is a sign of effective vendor management.
Select appropriate vendors
Occasionally, a reputable vendor receives a product from a well-known manufacturer. Because a reputable vendor can assist the company in increasing sales. Some suppliers supply materials to the manufacturer so that they can complete their productions.
As a result, the purchaser and seller teams in the manufacturing industry get a large number of RFQs and RFPs (Request For Proposals). They must choose one option from a significant number of proposals. When choosing a vendor, the manufacturer must analyze the vendor's history before finalizing the contract.
Contract negotiation 
When the manufacturer industries interact with vendors, they must sign a contract. They describe the contract's rules in contract, such as the start and finish dates of the work, the price, and the specifications of the materials, among other things.
After both the manufacturer and the supplier have agreed to the contract, the next step will be taken. However, if one of them disagrees or is unsure about a particular rule, they negotiate and clarify the agreement. Both manufacturers and suppliers benefit from this approach. After a contract sign, If one of them takes a step back, the contract document allows them to take action.
Gathering information documents 
When manufacturers decide to get into a contract with a company, they must first gather the necessary information. Companies store this record in their database so that if they require proof in the future, they will have the necessary paperwork.
Monitoring vendors performances
Vendor management includes keeping track of the vendors' performance. The manufacturer keeps track of the supplier's delivery of materials, payment, etc. This method improves their understanding of the current market. Maintaining the production process on time is also important.
Payment 
The manufacturer must finish the payment procedure in the final step. Because prompt payment is essential to maintaining a good cash flow, timely payment is important.
Because enterprises in the large manufacturing industries deal in credits, they make contracts. They describe all of the payment terms that they must agree to in the contract. If they buy the materials from a provider, they must pay the seller timely. And, if they provide vendors with appropriate goods, they follow up timely manner to ensure that payment is received on time.
How to improve relationships with vendors?
Businesses require success to keep their relationships with suppliers and vendors maintained. Here are some tips to assist businesses to manage their vendor relationships.
1. Build a strong relationship with the vendors
Manufacturer industries must maintain their relationships with suppliers to succeed in a competitive market. Because suppliers can give supplies to businesses at a reasonable rate, allowing them to increase profits while lowering manufacturing costs. They also manage their customers because they are suppliers who buy things from manufacturers and distribute them to customers.
As a result, they must establish a strong relationship with their suppliers to achieve their desired goal and enhance profits. They must deliver individualized services to maintain the relationship. They must also do timely follow-ups and keep track of the suppliers' performance.
2. While managing the supply chain system
The engagement with the vendors' management is referred to as the supply chain. Because corporations monitor the ingredients used to make items throughout the supply chain. They can use this to determine whether they can complete the project in the given timeline.
Because they will not be able to supply the materials on time if they do not have enough raw materials. As a result, delivery delays have a negative impact on customers.
That is why they must track the materials to complete the order on time. They may also simply control the supply chain system and monitor the materials using ERP software.
3. Manage inventory 
The supply chain includes inventory management. Businesses can execute orders on time and deliver before the deadline if they maintain inventory. They can also specify a proper deadline when they receive the order form so that they can simply complete the order without delay. If they run out of stock, they contact the raw material suppliers for supplies.
Businesses can save supplier data in the cloud database when they use ERP software. As a result, they can connect and receive materials with simplicity. They can also track the manufacturing process to ensure that the products are delivered on time.
4. Using automation features
Companies can use automation tools to handle their entire process automatically. In the world of digital automation, companies can use a single platform to streamline their entire operations. And this method makes it simple for businesses to manage their processes.
5. Increase productivity 
Additionally, when ERP software is implemented in a company, it lowers tasks such as paperwork, raw material monitoring, order tracking, etc. Given the fact that enterprise resource planning software can handle all of the tasks. While reducing the burden of other tasks, the administrator saves time and allocates it to other tasks.
Admins can assign tasks to staff evenly using ERP software. As a result, they can accomplish tasks on time and deliver products on time to maintain customer relationships.
Conclusion
In today's digital environment, all firms use software to improve their operations and increase their sales ratios. Companies must manage their vendors in between them. In addition, the enterprise platform's supply chain system helps organizations in managing their suppliers.
RELATED ARTICLES