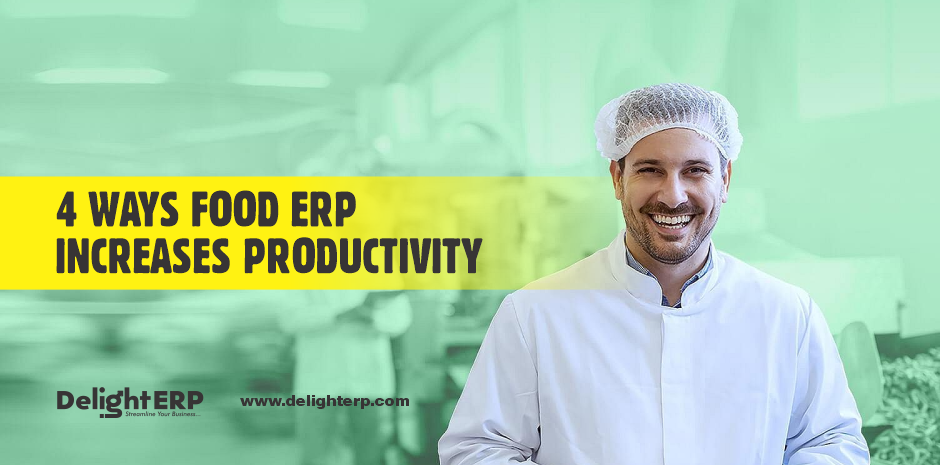 Manufacturers face a variety of challenges daily in today's competitive market. To meet all of the challenges and keep updated, they must implement technologies that reduce their workload. ERP Software is one of the greatest solutions for managing manufacturing enterprises.
Why Do Food Businesses Need ERP software?
If you're a food manufacturer who's having trouble organizing your processes, ERP (Enterprise Resource Planning) software can help.
Several manufacturing industries have developed all around the world. And industries have their own set of strategies and plans for maintaining their operations. Even at the close of the financial year, they make different profits.
And, in today's competitive commercial world, if companies want to stay in business or achieve their goals, they must enhance their manufacturing processes, decrease waste, and maximize profit margins. Maintain consumer trust by giving consistent products.
All of this happens and is effectively managed by the company when the food ERP software is used in their industries. This platform combines all industry sectors into a single platform. As a result, while using the software, every employee is connected to the others.
They may raise their production and profitability at the end of the financial year while streamlining their entire businesses with the help of the food enterprise resource planning system.
The Food ERP system is the most cost-effective alternative for keeping the food manufacturing enterprises in sync with their cloud-ERP solution. They can also achieve their desired earnings and generate profits that are higher than their competitors.
ERP software can help food manufacturers increase productivity
Food manufacturers can improve their manufacturing processes by implementing ERP software into their businesses. When the program is used correctly, it opens up a lot of options to enhance revenue while improving the sales ratio.
Here are a few ways to describe how manufacturing might increase production to achieve success.
1. Streamline workflow
Admin can streamline the manufacturer's entire processes with the use of food Enterprise Resource Planning software. They may keep track of how the production is progressing and how much time it will take to complete it using this method. As a result, they will be able to complete the manufacturing before the deadline and provide the materials to the customers on time.
In addition, the management department might allocate the work equally among the employees. As a result, they will be able to complete their assignment within the allotted time. They are also informed if they miss work and notified about missing tasks that they must accomplish, thanks to the food ERP's additional feature.
2. Maintain Inventory
To make food products, manufacturers need ingredients; in the other world, they need raw materials. The purchasing department purchases raw materials for the productions as needed. However, they are sometimes unable to appropriately manage the materials. As a result, they probably experience overstocking and occasionally run out of stock.
In the first scenario, inventory management is considered unnecessary, yet it has a significant impact on the profit margin. They are, however, able to maintain stock and reduce wastages or out-of-stock situations with the use of enterprise resource planning software. They can increase their profit margin while maintaining inventory.
3. Improve Quality Control
Businesses must achieve success before they can maintain relationships with their customers. To maintain clients, businesses must gain their trust by offering great service and product consistency.
Consistency in the product is a sign of a successful business. When customers are dissatisfied with the consistency of a product, they will never buy it again. As a result, businesses must ensure that their products are of high quality. And in the food manufacturing industry, quality is essential.
So, how can the companies ensure the quality of their food? – "Food ERP Software" is the answer.
With the use of software, manufacturers can maintain product quality while adding the required materials during the manufacturing process. As a result, they will be able to efficiently maintain product consistency in terms of quality.
4. Manage Supply Chain easily
The supply chain is the system that ensures that products are delivered to customers on time. However, several industries are unable to meet their deadlines. As a result, this action does make a negative impact on the minds of consumers, and they lose their faith.
Manufacturers use ERP software to run their businesses worldwide. They can effortlessly maintain the supply chain while using the system. They may also complete the production on time and deliver the products to the clients on time if they keep track of the process. This strategy enhances the manufacturer's professional image among customers and ensures that they receive high-quality items on time.
"A satisfied customer provides the lead of several new consumers," is a well-known thought.
Also Read: What Is Supply Chain Management (SCM)?
Advantages of ERP software for Food Manufacturers
On the other hand, Enterprise Resource Planning software helps the food industry in a variety of ways, several of which are described here.
Cost-effective Solution 
Every technology and software application has its own set of features. The software's value increases the advanced functionality.
The startup food industries have limited budgets, so when someone advises them to use ERP software, they consider the cost. However, Delight Food ERP provides clients with unique features at an affordable price.
Easily manage Data
Bills, invoices, reports, and other papers are tough to keep track of in companies. However, with the support of the enterprise resource planning software manufacturer's cloud system, they can continue to save their documents in digital form.
While keeping data in the software manufacturer, the employees were relaxed and free to devote their attention to developing attractive sales and revenue-generating strategies.
Even if they lose data by accident, they can easily restore it from a backup. And when entire sectors are streamlined, exchanging data becomes simple. Employees of the companies can use the recorded data while managing the system.
Help in decision Making
The manufacturer can use the ERP system to make crucial decisions about production price, quality, assigning tasks to staff, acquiring raw materials, and manufacturing procedures, among other things.
Companies can set the pricing of their products using the software, taking into consideration their profitability and the amount of money they have to spend on product development.
Businesses that never utilize software have a difficult time deciding on product prices. Because they must consider their production as well as the prices of their competitors' products when determining the amount. As a result, all of these processes take time, and businesses are unable to maximize profits.
Increase Productivity
Food manufacturers can increase their profits while increasing production. In addition, enterprises can boost productivity while keeping their
production processes
running smoothly. Manufacturers can also keep their manufacturing processes moving while using ERP systems.
Organizations can boost their productivity with the help of software. Additionally, by increasing production, they can notice an improvement in their sales ratio and attract new customers.
Effective Customer service
Customers are the driving force behind any company's revenue growth. And, to keep the trust of the customers, they can bring in several new customers even while providing satisfaction.
Also, when customers receive an immediate solution to their problems, they are more likely to be impressed by businesses. The organization's customer support team can use ERP software to accomplish customer service. Because the sales team adds data about the customer into the database when interacting with customers. As a result, when customers contact the company with issues, customer service representatives may help them solve their problems while also collecting information about the customers.
In short, management software not only helps in improving productivity as well as being beneficial in numerous ways.
Recommended for you: How ERP Can Reduce The Waste In Manufacturing
Conclusion 
In today's competitive market, the food industry faces several challenges. They use the software to achieve worldwide success. When compared to competing organizations, this software helps them in reaching a larger number of new customers, increasing productivity, increasing revenues, increasing profiles, increasing sales ratios, etc.
Schedule a Free Demo with one of our ERP experts. 
RELATED ARTICLES